In a post-covid world companies are more cognizant than ever that customers have new expectations when it comes to standard level of service.  Customers what to see precautions for the future.
We have always been committed to finding solutions to meet the needs of the present day.  We want to assist every company in not only automating frequently used doors, but also limiting "touch" exposure with that door.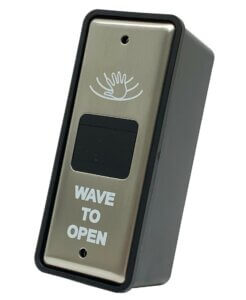 There are cost effective solutions to offering touchless entry on any exterior or interior door, such as restroom doors, employee entrances/breakrooms, customer entrances etc.  We have many manufacturers we are partnered with to offer a full range of products to meet any need.
Touchless solutions come with the option of being hardwired or wireless,  and come in various sizes and shapes.
Our featured product for this blog post is a wireless wave to open button that is both durable and affordable.  A similar look and feel to the traditional push button.  We love the wireless feature for the convenience.  It can be mounted anywhere! We also like that it is offered in both a standard size button and a jamb mount size as well.  It has a nice aesthetic, and unlike some other products on the market, it has a changeable  battery.  The red light flashes to tell you it is activating, so it is user friendly.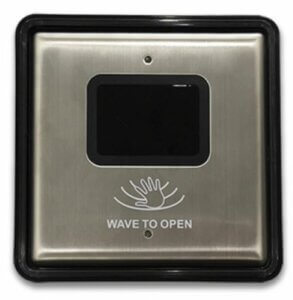 Want a product that is a little more sleek and modern?  This is another favorite with our team.  Slightly more on cost, but very slim mounting profile, similar to that of a light switch.  These are just our favorites.  We offer many selections from many vendors.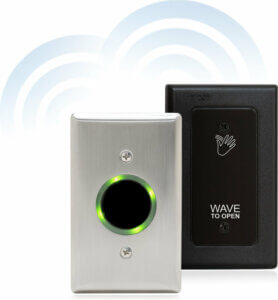 So please reach out to learn more about touchless activation for your doors!  Email estimating@trinitydoorsystems.com or call us at 1-877-603-2018.  Mention this blog post to save an extra 5%!