Aging door sensors may not prevent all accidents and injuries that can result in unwanted lawsuits, extra insurance claims, and costs far greater than the price of a new sensor.  Here are some of the benefits of upgrading to the latest ANSI standard for door sensors:
Expanded Safety Detection Area
Less Dead Zones
Greater Sensitivity
Better able to see real world conditions
This visual aid shows some of the real world conditions that newer sensors can "see" and where older sensors fall short.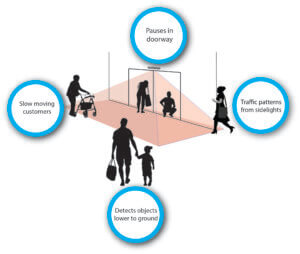 The performance of all sensors degrade over time. A quick inspection is all it takes to identify and upgrade outdated sensors with safer replacements.  We are committed to providing our customers with the safest door operation to protect their patrons and their pocketbook from those unwanted accidents.
Want to learn more?  Check out this slideshow with more details on sensor upgrades!
Not sure if you are ready to invest in new sensors?  Have a budget concern?  We will work with you!  We offer special discounts or payment programs to help customers get those needed safety upgrades.  Just talk with one of our helpful sales staff to discuss your needs!  Email sales@trinitydoorsystems.com or call 1-877-603-2018