Did you know we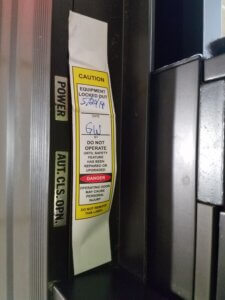 can fix 90% of all doors on the first visit? But often facilities have approval processes  to follow which often leave doors waiting for repairs and unsafe to use.
That's why we created an automatic door lockout sticker! It's better than shouting "don't let the door hit you on the way out!" to your customers.
Our lockout tag on your door is a simple tool in our toolbox to help you avoid risks.
Lockout tags at the power switch let others know when a door is turned off for safety reasons. It will eliminate confusion and effectively communicate when a door should not be allowed to operate.
Unfortunately, it is common for well meaning staff or patrons to flip a door switch to "on" position because they believe it is off by mistake.  Sometimes changes in shifts at the facility bring in staff who are not aware of the recommendation made while the door tech was on site.  There are many ways for an unsafe door to be switched on when it should remain off.  The automatic door lockout sticker avoids these scenarios.
This simple communication device helps provide you (and us!) with peace of mind.
What to learn more about automatic door safety?  Check out all our posts related to that important topic here!  Or visit AAADM's page to learn about industry standards and their recommendations for door owners.
Our techs will leave a flyer should we apply a lockout sticker to your door.  You can leave this flyer in your facility office  so your staff will know why the sticker was applied.