This past summer we completed a dual project for a local volunteer fire department facility.
The first phase of the project included new manual doors to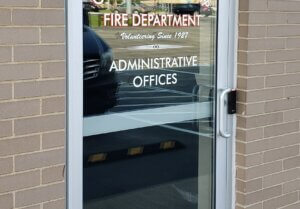 replace doors that were several decades old.  They were having many problems including issues with locking.  Like so many facilities, the COVID-19 pandemic presented another challenge with budgetary constraints.
Our field trainer, Jim, generously donated his time free of charge to help offset part of the labor costs of the installation.  Our owner Bill also added in a special discount on materials as well to help the Fire Department replace the worn doors without additional delays.
Once the new doors were installed we worked on phase two.  This included a Brivo access control system with "Smart" fobs.  This system allowed the department to easily administrate building access to the many volunteer firefighters who may need to enter the firehouse at all hours.
This was a fun and exciting project to be a part of.  This local fire department was wonderful to work with, and we are happy because they were happy with the end result.  Many thanks to Jim French for all his efforts on this project.